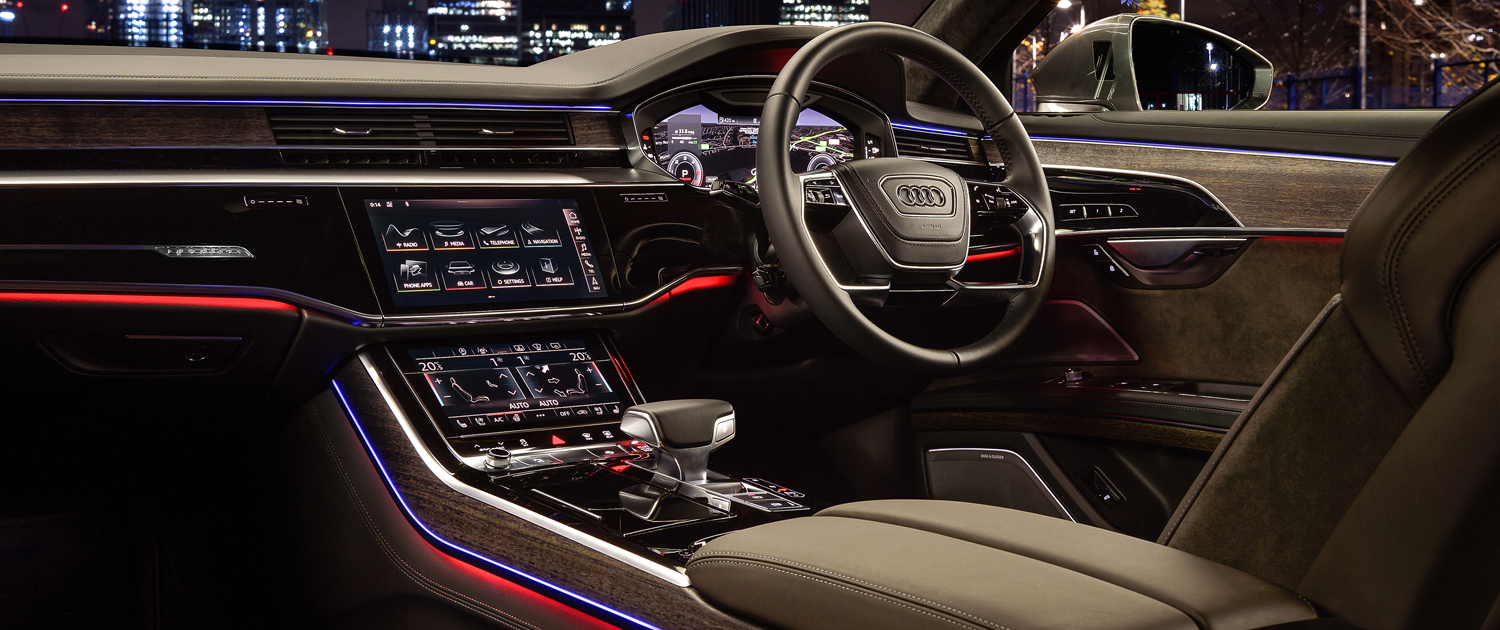 If you can not make a session at the scheduled time, register anyway and we'll send you a link to access On-Demand!
All of our webinars are free to attend, presented live and are interactive.
PROGRAM

Register Now To Participate Live Or View On Demand
Automotive Interior Innovation, What's Next?
Environment And Performance Driven Mobility Trends – Light-Weight Product Innovation For Automotive Leather
Alexander Schieke, Global Market Manager Mobility, Stahl Holdings BV
Mark Bartle, Senior Global Leather Specialist -Wet End Automotive, Stahl Holdings BV 

Mobility & lifestyle trends influencing the interior

Future requirements for automotive surfaces

Leather: What determines weight ?

Conventional and lightweight automotive leather

Combining Polymeric Re-tanning and Softening Agents

Value Proposition for lightweight automotive leather
Hepatic Technology & Design Flexibility For A Better User Experience
Testing, Inspection & Certification: Seating & Interiors Validation Opportunities
Cabin Thermal Management For BEVs: Where Comfort Meets Energy Saving And Sustainability
Philippe Godano, Global Product Manager Interior & Product Marketing Manager, Autoneum
Davide Caprioli , Head of Acoustic and Thermal Management, Autoneum

Impact of cabin heating on BEV driving range

Cabin heating principles and optimization parameters

Improving thermal properties of interior NVH and trim parts

Heated floor mats: thermal benefits and technical solution
Multilayer & Lightweight Performance Materials: Freudenberg Enables Sustainable Solutions For Automotive Interior Applications
Susan Lowrie, Strategic Account Manager – Automotive Interiors at Freudenberg Performance Materials

Klaus Ingmar Homberg, Director Global Manufacturing at Freudenberg Performance Materials
Speaker Bio | Company Profile

Freudenberg's new system approach for automotive solutions.

State-of-the-art technologies: Instead of being a follower, we help to set the standards and transform the entire industry with proactive innovation and thought leadership.

Lightweight engineering for more speed and less fuel usage, reducing overall costs and CO² emissions

New materials  for automotive interiors with noise reduction & sound observing qualities, lightweight engineering, recyclable materials

Applications like seating's, acoustic pads, underbody shields, headliners
Innovative Materials For Interiors of The Future: Polymer Manufacturing And Its Interior Concepts For Future Mobility
Smart Surface Technologies: Bringing Surfaces To Life
New Demands And Applications For Polymer Optics In General And Automotive Lighting
Fabian Grote, Technical Marketing Manager, Covestro

Polycarbonate an enabler across the electromagnetic spectrum

Trends in Automotive lighting and General Lighting

How the look and design of applications will be influenced by new ways to integrate light

Covering emerging lighting technologies, e.g., edge lighting

New Makrolon® grades with outstanding optical properties and innovative FR technology
Dynamic Interiors: Interior Lighting, Including New Trends In Ambient And Voice-Activated Lighting Technology
How New Tech Will Keep Your Eyes On The Road
Advanced Automotive Lighting: Interior Lightings And A New Frontier In Effects, Performance, Safety And Aesthetics
Ambient Lighting: The New Growth Sector
Key Trends That Will Shape The HMI (Human Machine Interface) Of The Future
Interior Innovation: Identifying Material Opportunities To Reduce Weight
Improving The Experience For EV Drivers:
Audio And Acoustic In-Car
How Will Voice Recognition
Through Machine Learning And Rise of In-Car Personal Assistance Enhance User Experience
Bringing Surfaced To Life
SOME OF OUR PREVIOUS WEBINARS

Large Display Integrated In Seamless Interior Of The Future

Human-Centred Technologies For Smart Automotive Interiors

Analog Interiors in a Digital Future

Seamless Mobility – Materials For The Multifunctional Car Interior Of The Future

Switch Haptic & Sound For Car HMI, Present And Future Solutions

Disrupting The Car Experience With HMI : Haptic Technology & Design Flexibility For A Better User Experience

Responsible Chemistry For Mobility Interior Surface Materials – Matching Trends, Performance & Environmental Footprint
Connecting The Puzzle Pieces To Pave A Way Towards A Circular Economy – Interior Acoustic Materials From Sandler

If you are interesting in hosting or sponsoring a webinar or virtual workshop as part of this years Global Automotive Interiors Innovation Webinar Series please contact us on
info@we-automotive.com or by phone on USA +1 (313) 799 2911 or Europe +44 (0)7932 631 029
Keeping Your Audience Engaged!
60 Minute Live Workshops & Webinars – Book Yours Now
Engage Your Target Audience
Broaden your reach with WeAutomtive's direct to market – webinar solutions. Webinar capabilities that reach your buyers and continue to grow your business. Host the most advanced, innovative, online Webinars and virtual events with multiple speakers and unlimited fully interactive attendees. Q&A and polling: Manage and share audience input in Q&A dialog box where attendees ask questions, either live audibly or text answers.
Easy Set-Up And Registration
Customize and brand your webinar advertising and registration forms. Retain registration management if you would prefer; collect delegate names, job titles, email addresses and telephone numbers.
Attendee "raise hand": Increase attendee engagement by allowing virtual hand-raising. Attention indicator: Track how engaged your audience is with your content and which viewers show the most interest.
Present With Confidence
We host via a cool, state-of-the-art, trendy, all singing all dancing platform! It is simple and intuitive for presenters and has advanced interactive capabilities for attendees from desktops, laptops, mobile devices, and conference rooms. Chat: Set private and group panelist chat settings for attendees and panelists.
HD Video And Audio
Multiple live video presenters and panellists can share their webcam and interact with the audience; If you'd prefer, you can to remain unseen, or just post a profile picture.
Live Broadcasting
We can all broadcast live across all social media channels with Facebook Live, YouTube and LinkedIn integrations.
On-Demand Viewing
Host larger-scale events with help from our team, including planning, rehearsal and live support.
Full Featured Host-Controls
Mute/unmute panellists, and promote attendee to panellist, giving them audio and video capabilities for enhanced engagement.
Reporting & Analytics
Get reports on registrants, attendees, polling, engagement levels and Q&A for follow up.
Place Your Brand Front & Center
60 Minute Live or On-Demand Virtual Events, Workshops or Webinars